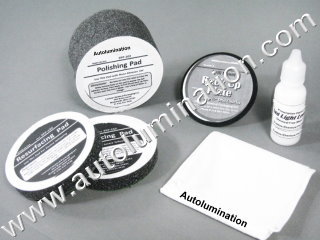 Special Features of this Kit:
This kit comes with a special abrasive pads polishing pads and polishing chemical.

Special Note: Beware of kits with chemical only. To do the job properly, you must use the special abrasive pads followed with the polishing pads. Kits which contain chemicals only often will not produce good results.

The compound used in this kit contains specially formulated nano-abrasives which will scour, clean, resurface and recoat the lens with a special UV stabilizer to help protect the lens. This special formulation is not found in other kits. For added protection add the vinyl protective film sold above after polishing your lenses.
This kit contains enough materials to easily do two headlights, however, if you use the kit sparingly, you can often do 4 or more lenses with pads and chemicals from a single kit.
Works equally well on any clear or colorized plastic lenses.li>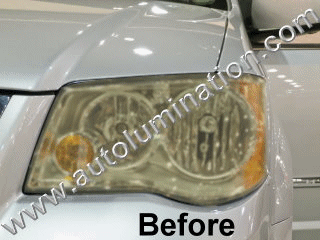 Description:
Using your drill, to restore clouded and foggy plastic headlight tailight or any lenses to look like new!
Chemicals in this kit are Water-based. No silica, silicone, petroleum, acids, waxes, clay fillers or chemicals that could hurt the environment are in this product
This is a Complete Kit Which Includes:

(1)2-3/4" backup pad with 1/4" shank

(2) Lens resurfacing pads
(3) Foam polishing pads along with the polishing solution
(1) Bottle of Polishing Solution (now with 50% more)

(2) Lint free cloths

Can be used to restore lenses on tail lights, headlights, motorcycle headlights, trucks, boats, jet skis, dash, side markers, brake lights, fog lights, etc.
Can be clear plastic or colorized plastic lenses.
Steps:

1. Inspect and clean the lens with water.
2. Wet sand the lens using an electric drill and the resurfacing pad included with the kit. Wet sand until all pits and discoloration are removed.
3. Clean the lens with water.
4. Apply the chemical polishing compound to the polishing pad and polish the lens. Clean, inspect and polish again until smooth. Use water to keep the polishing compound wet while polishing.
5. Clean the lens.
6. (Optional) Apply self adhesive vinyl clear coat film.